BYO Is For The Birds
It's here! The Big Day! The Best Day EVER! All the hard work and months and months (and months) of planning have all culminated to this one special day.
Boy, do you need a drink.
Let's be completely honest here. What's the one thing wedding guests look forward to the most, besides the whole matrimony thing? Well. Two things.
Open. Bar.
Insert pressure.
To help you conquer the world of wedding booze, I have one word of advice. Well. Two.:
Trust.
The bar has become the staple at wedding receptions, but not without plenty of stressful nights of planning. Especially if you aren't the expert you thought in bar protocol, logistics and costs…to very large groups of people.
That's why you leave it to the experts. I've said it before and I'll say it again, the older I get the more value I place on my time, in everything I do or seek to do. Just because you hire a professional, doesn't mean you can't build a bar to your taste and your attitude. His, Hers and Ours specialty cocktails inspired by your first date? Your favorite restaurant's famous concoction. Hate sweet, Love sour. Favorite brewery. Up, chilled, rocks, neat. Professional bar vendors, professional vendors, are out for the client and guest experience. We know you haven't done this 1,000 times, 100 times, twice…ever. We are here to educate, guide, and advise. The last thing we, they, you want is for any component of the day to fail. Especially the fun part. Trust us.
Delegate.
Does anyone actually LIKE going to Costco? Perhaps it's the minimalist in me, but large crowds and bulk items stress me out. Don't get me wrong. Getting that bargain bottle of wine…so you don't feel entirely guilty downing the whole thing on a Tuesday night…is a good feeling. What's not a good feeling (besides the following morning after downing said bottle of bargain wine): buying thousands of dollars of that bargain wine, beer and liquor, throwing in hundreds of dollars of mixers, cups, cups and more cups, fronting the bill, and schlepping it to your car. The icing on the cake? Schlepping it to your venue. The cherry on top: schlepping any leftovers back home.
Leave the schlepping to those professional vendors we just talked about. The last thing you want is to be schvitzing on your wedding day…or looking for parking in the Costco parking lot.
del·e·gate: verb
Passing off schlepping and schvitzing to hired vendors.
"He delegated the bar set up to INDUSTRY Beverage"
I can think of many more ways to utilize the Costco time lost.  This day is an investment in many ways, so don't step over dollars to pick up dimes. Use that budget, and that time of yours, wisely. Talking with and listening to your vendors can go a long way to fine tuning your menu, service and package. I can tell you from experience, from both sides of the fence, that's where you save the most: on that budget, and that time.
Let me get to the point. We are here to help. From the start. Have questions about menu options, service details, timing – ask us. Ready to discuss your custom beverage proposal, ask us. Like our venues, our beverage packages are not cookie cutter, turn key options. You have the freedom to customize your bar menu and service requests, just like you are customizing your entire event at an 828 Venue.  So channel your inner JK Simmons and trust us: we know a thing or two because we seen a thing or two. Delegating the schlepping and schvitzing so you can focus on the fun stuff will be the best decision of your life. Well. Besides that other half of yours ;-).
Because we're being completely honest here. It's all about celebrating two people tie the knot, but there's a pretty good chance your guests are eager to make their way to the bar.  Make it memorable.
I now leave you with the 'fun stuff'.
We will start with the perfect Margarita, which is made with the juice of three limes, not two, not one – or worse, that ultra-sweetened imitation lime stuff. Amateurs often add orange juice to cut the tartness. This is a mistake. And personal preference, I take my margaritas with silver tequila and a sugar rim. Cheers.
Make 5-7 Servings
10 oz Silver Tequila
16 oz Fresh Limeade (Simply brand makes a good one!)
4 oz Orange Liqueur
1 oz Simple Syrup
Juice from three whole limes
Batch, CHILL, and serve to your favorite people, over ice. Garnish with a Lime. Add a soda water or Sprite floater depending on preference.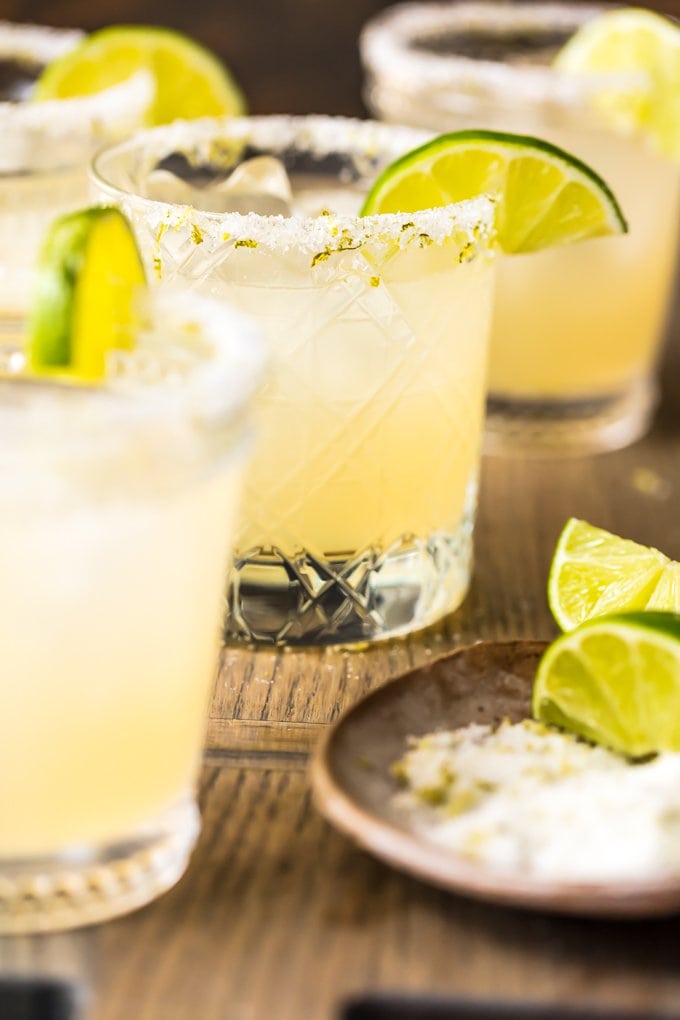 Enjoy!
Thanks for reading!
Ashleigh
Venue Manager, Coordinator, Wife, Lush.