If there's one great time of year to celebrate with colleagues and friends, it's during the holiday season.
For Indianapolis-based companies, the possibilities of where and how to host a private event are endless. From cocktail celebrations at an event venue, to riding in horse-drawn carriages through downtown Indianapolis, there's no shortage of options for your company holiday party.
INDUSTRY is consistently named one of the best holiday party venues in Indianapolis, so we know our fair share about how to host a memorable event!
If you're in charge of planning this year's party and are ready to get creative, we've got you covered.
No matter your group size, budget, or location within Indianapolis, here are nine corporate holiday party ideas that are sure to spread holiday cheer.
1. Circle of Lights
One of Indianapolis' most time-honored traditions is the Downtown Indy Circle of Lights. From the day after Thanksgiving through the beginning of January, the iconic Soldiers and Sailors Monument is illuminated with holiday decor.
Allow your team to experience the magic of Indianapolis during this season, including live performances, fireworks, and more.
Upon arriving downtown, take the team to South Bend Chocolate Company to stay warm with a delicious cup of hot cocoa. After everyone has had a chance to marvel at the lights and take photos, head to dinner in the private dining room at none other than the famous St. Elmo's Steak House.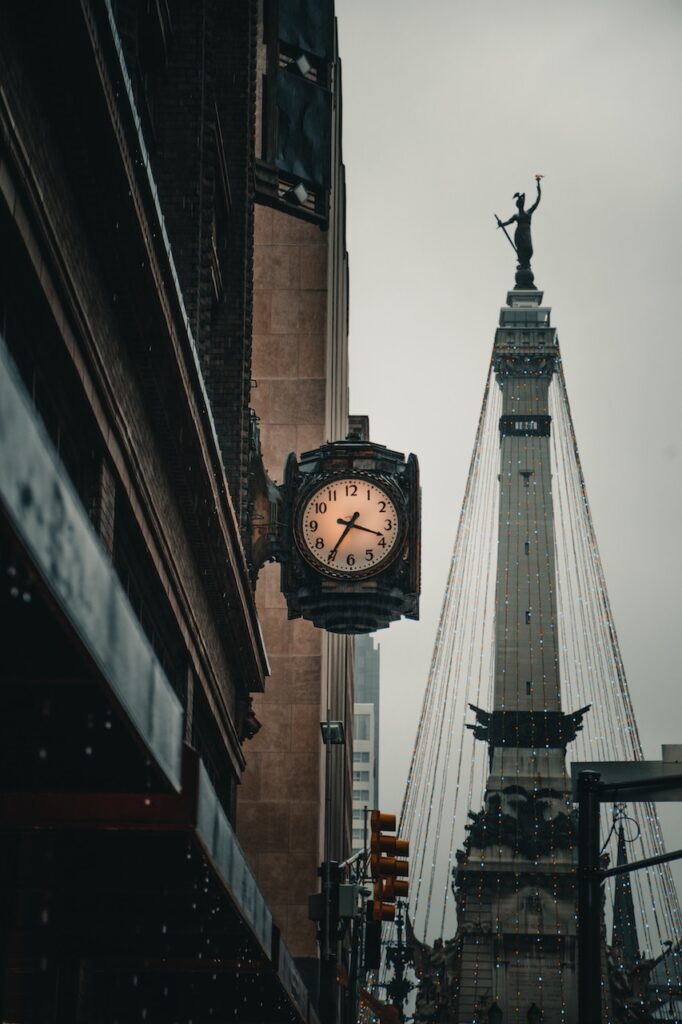 2. Indianapolis Wine Tasting
Before you say that Indianapolis isn't a wine city, think again! Peace Water Winery is Indiana's only locally-owned California winery.
Their wines are handcrafted in the heart of Napa Valley, and 50% of the company's net profits are donated to charity.
Each of Peace Water's locations around Indianapolis offers a space available for private event rentals, and the option to bring in outside catering. Keep your team engaged with a wine tasting, heavy hors d'oeuvres, and a white elephant gift exchange!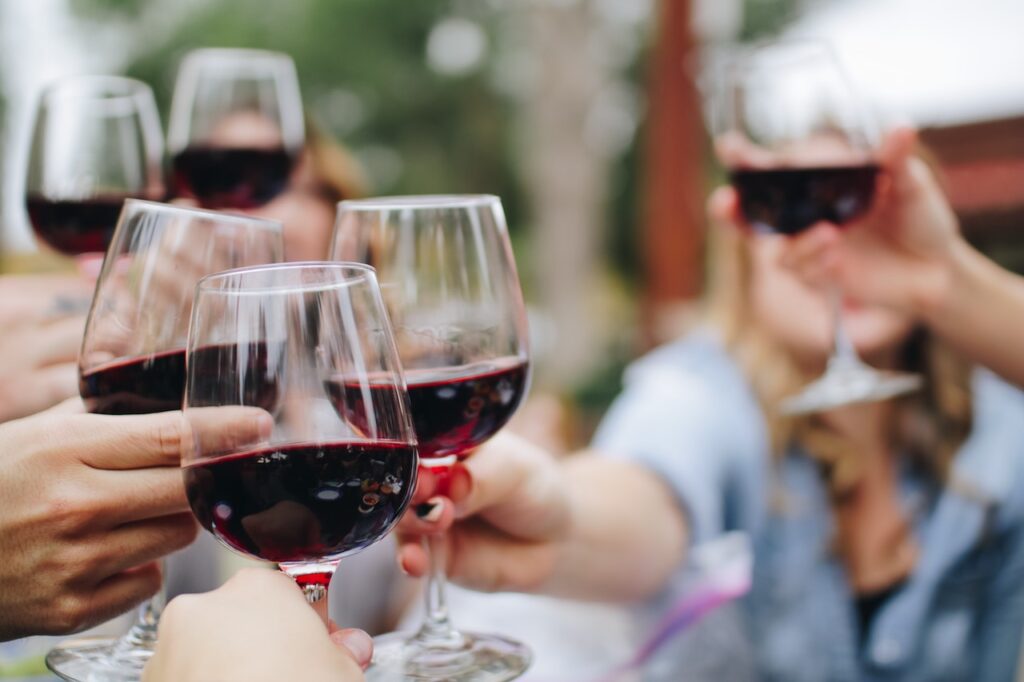 3. Host a Festive Office Holiday Celebration at INDUSTRY
Coming up with a party theme can be a challenge! Whether you have an idea in mind or are looking for creative assistance, INDUSTRY is a uniquely versatile space complete with a team of event planning experts. With over five years of experience hosting holiday parties in Indianapolis, we know just what party guests are looking for.
Conveniently located in downtown Indianapolis, INDUSTRY can accommodate up to 300 guests for a seated event and many more for a cocktail party. Our vaulted ceilings are perfect for live music, and whether you plan to host a full open bar or beer and wine, INDUSTRY Beverage has you covered.
Here are a few conveniences of throwing a holiday party at INDUSTRY:
Event Planning and Inclusions. Planning your holiday party doesn't have to be difficult. Our team of full-service event planning experts will guide you through finding the best vendors, and ensure every detail is covered. Of course, tables and chairs, wifi, and market lighting is always included at INDUSTRY.
Indoor and Outdoor Space. Although the holiday season in Indianapolis is typically chilly, INDUSTRY's space rental includes access to both our indoor and outdoor space. Our flexible venue can also accommodate virtually any layout you'd like.
Services and Amenities. INDUSTRY is more than just a party space. Our in-house beverage service, INDUSTRY Beverage, can create custom cocktails that are sure to please every attendee. Plus, decor items such as draping, mylar tape designs, and mobile walls are available to add to your event's aesthetic. Here's our full list of amenities.
While there are plenty of Indianapolis holiday party venues to choose from, we are confident that booking INDUSTRY will ensure your best corporate holiday party yet!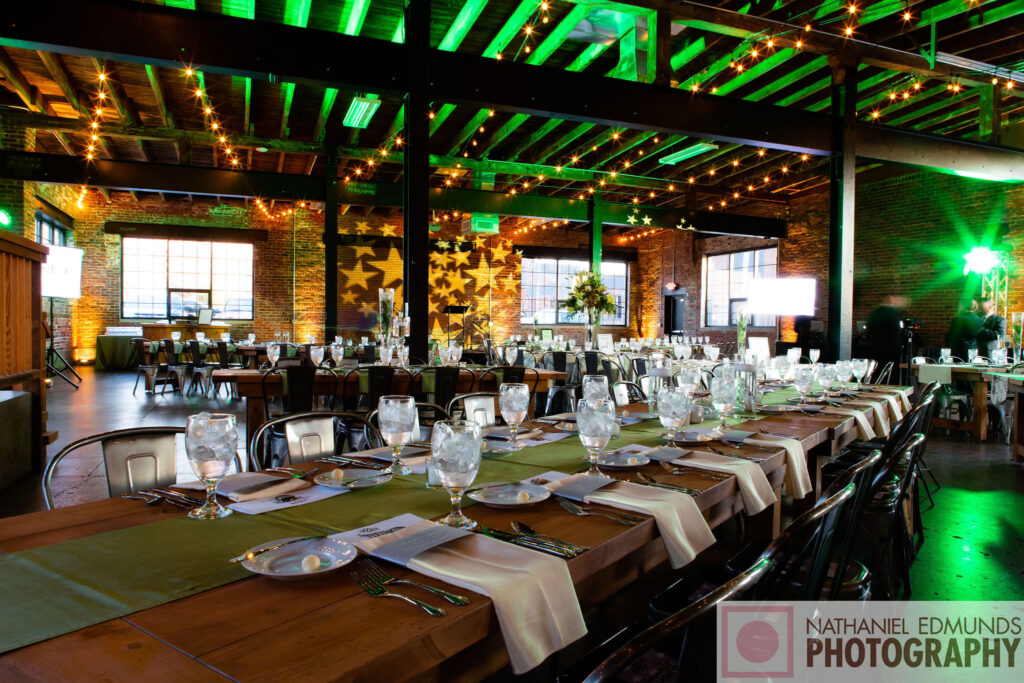 4. Natural Candle-Making
Encourage your team members to get creative by crafting their own unique scent at Penn & Beech Candle Company. At just $24 per person, this is a great option for companies who want to host an outing on a budget.
Penn & Beech offers all-natural ingredients free of metals and contaminants that are safe for every home.
Book a private pour event or a full shop rental for groups of 9 or more.
5. Experience a European Holiday Market at Christkindlmarkt
Skip the traditional Indianapolis party and give your team a taste of a traditional German holiday market at the Athenaeum Christkindlmarkt!
Open on weekends beginning after Thanksgiving through the end of December, your team will enjoy traditional festival elements such as music, arm raclettes, gluhwein, and platzchen, all unique to German culture.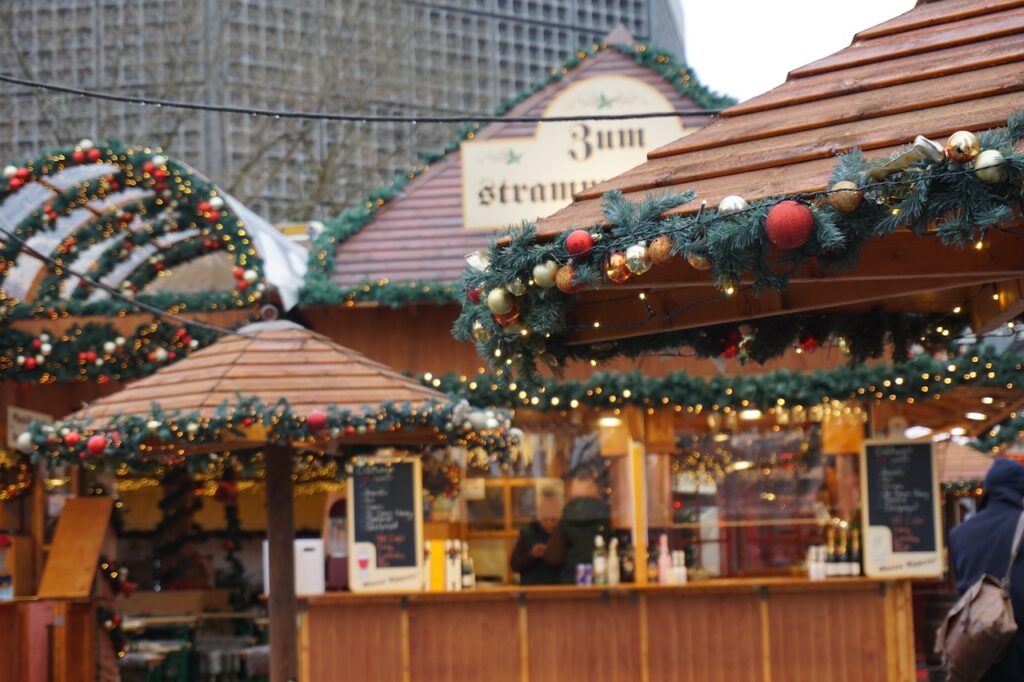 Celebrate the magic of the season in the historic Biergarten, sample German foods, shop from local vendors, and more.
6. Lunch at the L.S. Ayres Tea Room
Treat your team to a nostalgic holiday experience dating back to 1929. Attending a holiday lunch at the L.S. Ayres department store was an Indianapolis tradition for decades, but sadly closed in 1990.
The Indiana State Museum has recreated the experience complete with an authentic L.S. Ayres menu that includes chicken velvet soup, tea time sandwiches, and miniature desserts.
The tea room can host up to 64 guests, but make your reservations early as this experience tends to sell out.
7. Holiday Food Crawl
Indianapolis has a booming food scene, and the best way to try a little bit of everything is by designing your own food crawl!
Bring your colleagues to Mass Ave using unique transportation such as the Chicken Limo or Hippo Bus, and "crawl" from restaurant to restaurant.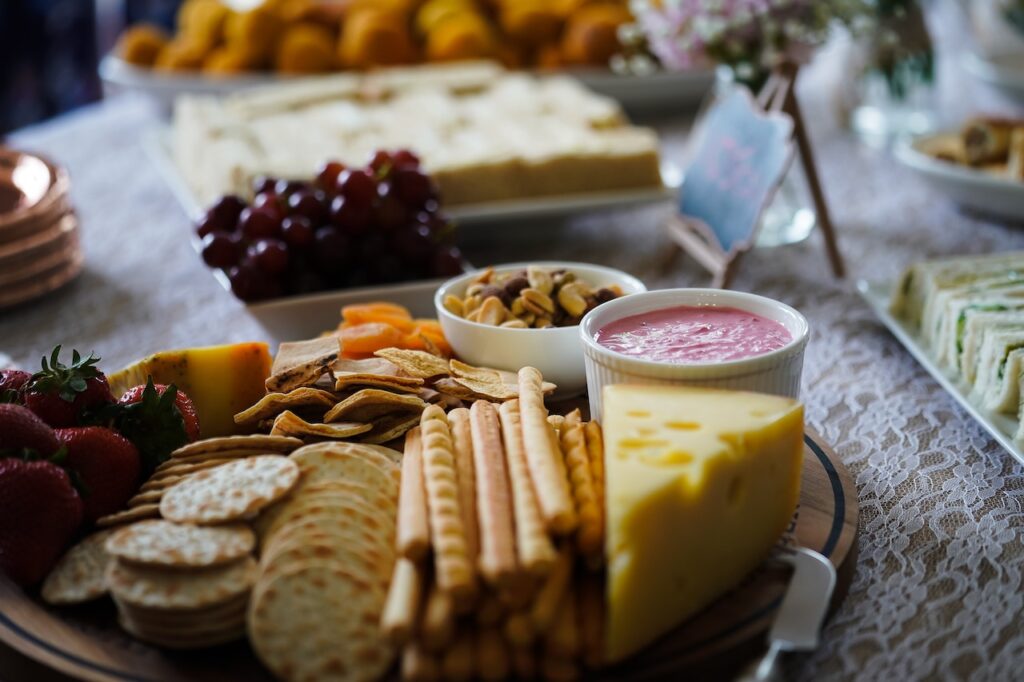 Work with restaurants like The Eagle, Yatz, Salt on Mass, BRU Burger, Bazbeaux Pizza and more, to come up with family-style plates and drink samples (featuring their best items, of course!) to give your crew a taste of Indy.
8. Winterlights at Newfields
Wander through the scenic gardens of the Newfields, aglow with more than a million and a half twinkling lights!
This enchanting experience runs from mid-November through the beginning of January, and features a variety of curated holiday light displays. Get a taste of the spiced cider, a collaboration with local cidery, Ash & Elm Cider Co., Sun King Brewing's Electric Reindeer Brown Ale, and sweet treats from Circle City Sweets.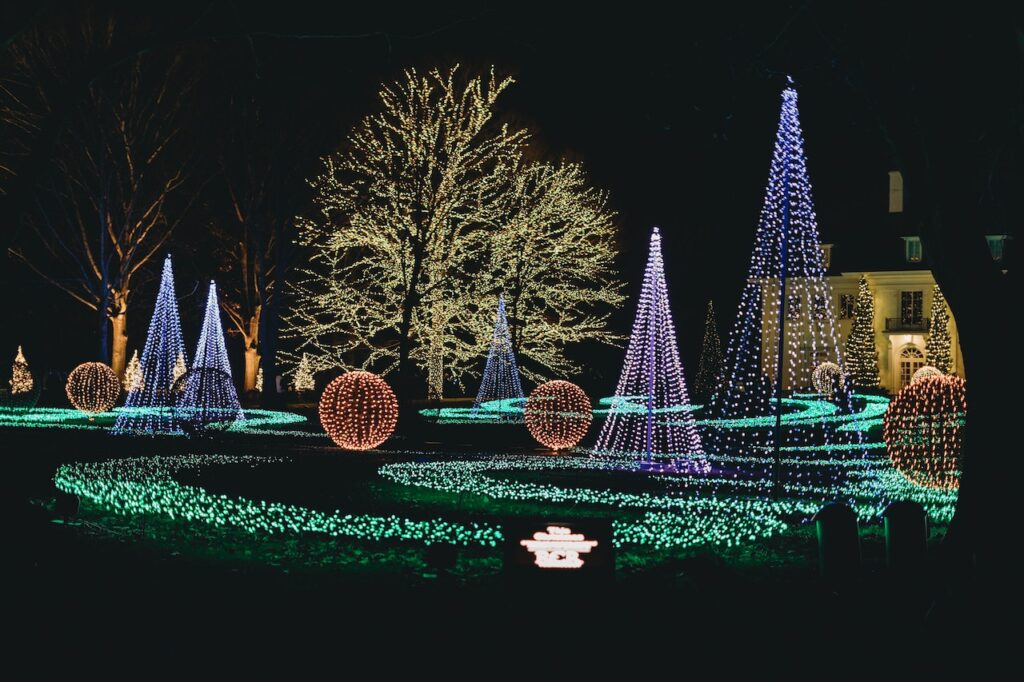 Once the team is full of holiday cheer, finish the evening with a private party at Mama Carolla's Old Italian Restaurant for a cozy dinner.
9. Local Cooking Class
A corporate event doesn't have to be stuffy! Encourage team-building with a cooking class at Nestle Inn.
This informal experience by chefs who specialize in teaching others will provide you and your co-workers with the skills to prepare the same meal at home.
Classes include all chef instruction, food, and beverages, and are limited to 12 people.
Book Your Holiday Party in Indianapolis Today
With these ideas in mind, your next holiday party is sure to be one of the best special events yet. INDUSTRY is available to host your event, provide helpful party planning, and create an extra special experience for everyone. Your coworkers will boast to their friends and family about how much fun they had.
Get in touch with our dedicated team today to learn about the space, prices, and why you should book a party at INDUSTRY.