The preferred wedding season has shifted over time from summer to fall, but as we begin to feel a chill in the air once again, it's important to recognize the less popular (albeit, still amazing!) Indianapolis wedding season: Winter.
Being able to say "I do" on a cozy, snow-filled wedding day in Indy surrounding by your guests is certainly a pro of the season. However, we understand that not everyone wants a snow-kissed reception, and that it can potentially pose a challenge for wedding photos – especially for the bridal party!
In this article we'll dive into all of the pros and cons of having a Winter wedding, as well as what to look for in a wedding venue in Indianapolis if you do plan to get married during this season.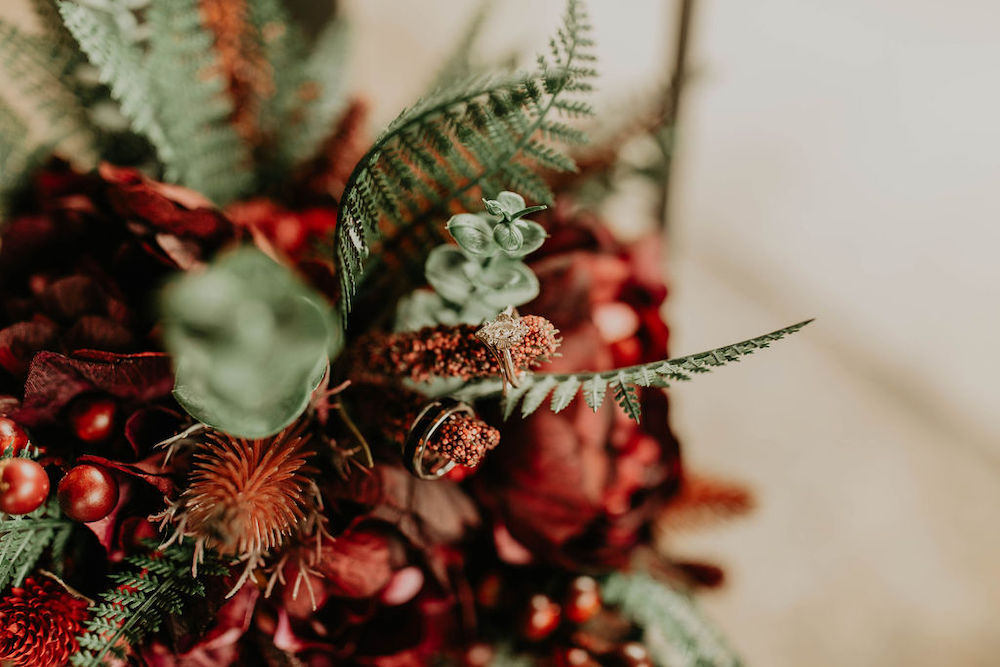 Winter Wedding Pros & Cons
Everything about your wedding day should cater to you and your new partner's preferences, so here are some pros and cons to think about when deciding if a Winter wedding is for you.
Pro 1. Off-Peak Pricing
If you're on a budget, a winter wedding can certainly be more affordable. Although downtown Indianapolis is beautiful all year long, a Winter wedding just isn't as popular of a time as the Fall or Summer. Many beautiful wedding venues offer special pricing during this season, so if you find the perfect place to host and want to save some money, this can definitely be a pro.
Pro 2. Snowy Scenic Beauty
As snow blankets the Circle City, a natural magical backdrop is created for your wedding photos. A winter wedding in Indianapolis can create a fairy-tale atmosphere that is both enchanting and unique – even if your entire day is spent indoors!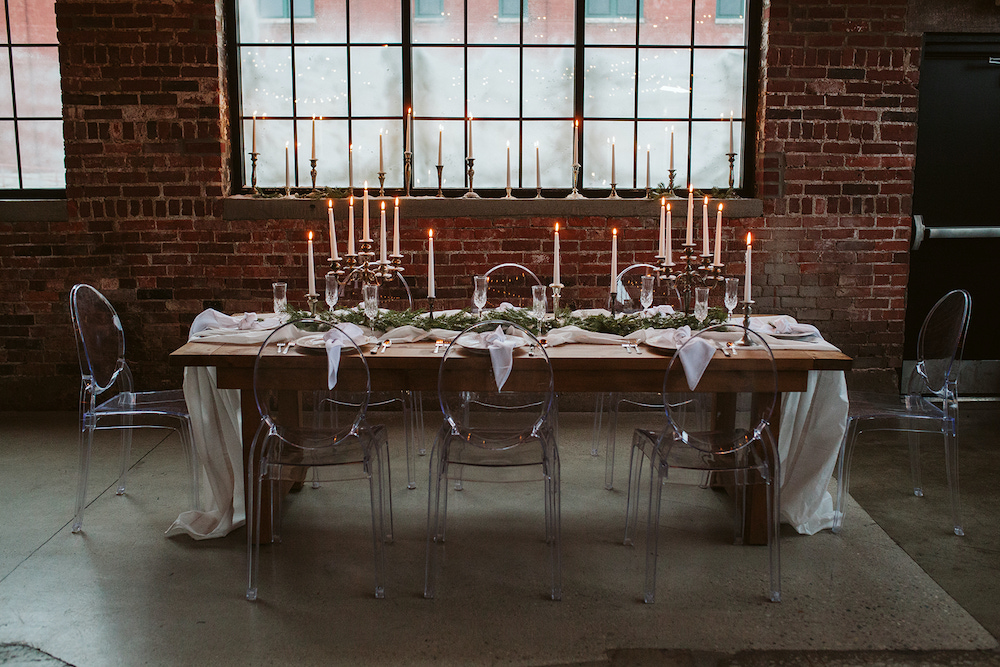 Pro 3. Off-Peak Availability
Along with off-peak pricing comes off-peak availability. With many couples opting for Summer or Fall weddings, Winter opens up more possibilities for availability for Indianapolis wedding venues. However, this doesn't apply only to venues! Wedding vendors in general have more availability in the off-peak season, so you have a better chance of hiring the wedding photographer and wedding cake bakery you've had your eye on during this more relaxed time.
Pro 4. Cozy Atmosphere
Winter wedding receptions allow you to capitalize on the cozy vibes associated with the season. From moody decor hues to hot toddys during cocktail hour, to a delicious hot chocolate station, it's easy to create a timeless winter ambiance for your special day. INDUSTRY Planning can help you design the perfect combination of cozy inclusions and activities to ensure your guests will be dancing the night away, blissfully unaware of the cold outside!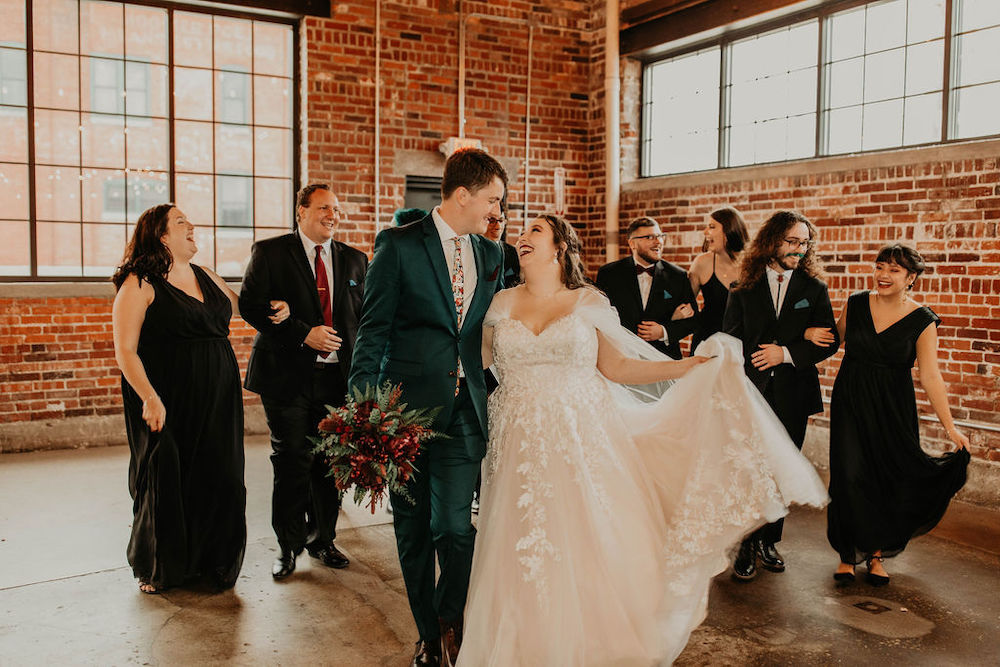 Pro 5. Elegant Attire Choices
Winter weddings in the Indianapolis area provide an opportunity for your guests to done their most elegant and sophisticated attire. From luxurious options like velvet gowns and faux fur shawls, your wedding party can also show off different styles that might be too warm for a summer celebration.
Con 1. Weather Uncertainties
Indiana weather can be unpredictable in winter, bringing logistical challenges such as snowstorms or icy conditions. This can affect travel plans for guests and potentially disrupt logistics, which is something to consider if the majority of your guests will be traveling from out of state. Be sure to chat with your Indianapolis wedding photographer ahead of time to confirm indoor photo locations that offer amazing natural light (like INDUSTRY!) just in case outside is not an option day-of.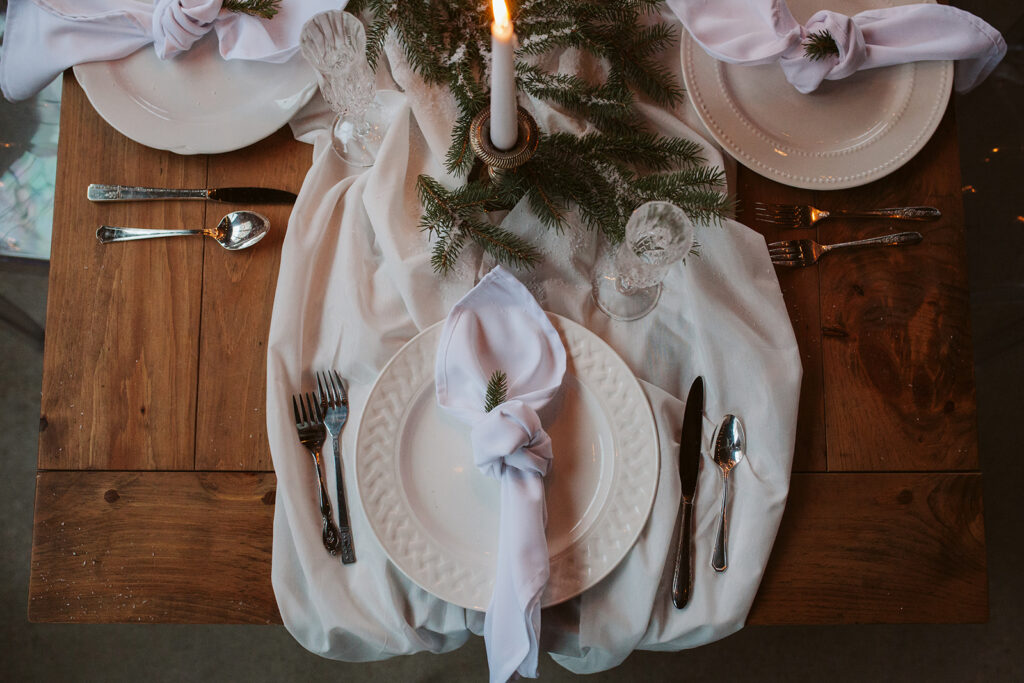 Con 2. Limited Outdoor Time
While the snow-covered city is certainly beautiful, it may limit outdoor wedding experiences like photos or a sparkler exit. If you were hoping to utilize an outdoor space that doesn't have heaters, or even have an outdoor ceremony, you'll need to consider alternatives in case of inclement weather. Side note: INDUSTRY has both indoor and outdoor space, making it the perfect, flexible venue no matter what time of year you'll be wedding planning!
Con 3. Holiday Scheduling Conflicts
If you plan your wedding close to major holidays, your guests may have conflicting commitments. Be mindful of potential scheduling conflicts, and be sure to check with your VIPs before securing a date, but don't let the holiday season stop you from having your big day your way!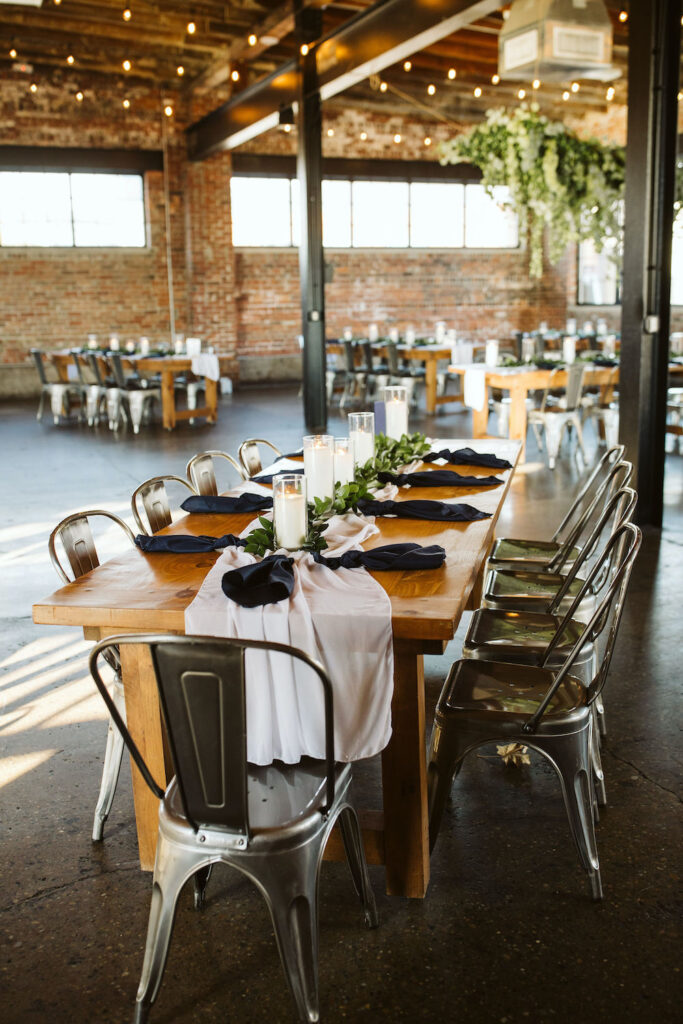 Book Your Winter Wedding Venue in Indianapolis
Ultimately, the decision to have a winter ceremony and reception in Indianapolis depends on your personal preferences, priorities, and willingness to embrace the unique aspects of the season. Before booking, consider these pros and cons to make an informed choice that aligns with your vision for the best wedding day. Once you're ready, contact our dedicated team to determine availability and schedule a tour.